08 Apr 2013
April 2013
The newsletter other trading professionals demand
Feeling mixed emotions about trading? Feel like you want to do it well, but you're scared about the consequences if you screw it up? Well, there are some perks to not feeling 100% all of the time.
According to a 10-year study published in Social, Psychological and Personality Science, the more often you feel mixed emotional experiences, the slower your age-related health decline.
My interpretation of this is that the people who challenge themselves and strive may be providing the type of brain stimulation required to keep everything firing at warp drive.
When was the last time you challenged yourself to try something new? Give it a whirl. It may just keep you young!

Happy Trading,

You can also find Louise Bedford on Facebook and Twitter.
In this month's newsletter:
– I'll Get By With a Little Help From My Friends

– Free Easter Hamper FOR YOU! – No strings attached

– Does Risk-Taking Seem Less Risky Now?

– Holy Hell It's Going Up!

– Rejected But Still Hopeful

– Lessons from the Generals of the Markets

– Want Your Trading Business To Run On Auto-Pilot?

– Final Thoughts
---
I'll Get By With a Little Help From My Friends
Louise Bedford
We've all heard what it takes to live longer – exercise more, eat well and don't smoke. But, did you know that the state of your relationships plays an essential role as well?
Julianne Hold-Lunstad of Brigham Young University has revealed some startling facts. She found that people with active social networks and support were 50% less likely to die of ANY cause in comparison to their non-social counter-parts. Low levels of social interaction had the same effect as smoking 15 cigarettes a day!
Researchers believe that not having the support of a good friendship group releases a cascade of damaging effects in the body which weakens the immune system.
Isn't it time you called that special trader in your life today to offer some words of support? Do it for them, but more importantly, do it for yourself. Don't kid yourself that you can do this all alone.Support of your fellow traders is essential, for your bank account, and… so it seems… your health.
---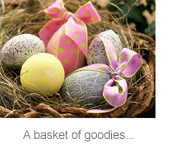 Free Easter Hamper FOR YOU! – No strings attached
After weeks of buying Easter eggs for others, don't you think you deserve something special?
Exactly! That's why I've got together with Michael Yardney, Kevin Turner, Brendan Kelly, Jim Berg and Darren Stephens to bring you this exclusive Free Easter Hamper.
This hamper is jam-packed with investment and business gifts valued at over $700 but as our gift to you it is FREE.

All you need to do is visit our specially created website at freegifthamper.com.au to read more about what you'll be receiving and fill in your details.
Just click here to claim your hamper now.
---
Does Risk-Taking Seem Less Risky Now?
Louise Bedford
Ahhh… the internet. Sometimes we do confuse the cyber-world with the real world. It seems that because of the proliferation of bloggers, and the vocal minority, a vast majority believe that the safe option now is to tell their boss to shove it and leave their jobs.The more time you spend on the internet, the more you end up believing that it's OK to leave a safe haven and set adrift into unknown territory, before you're fully prepared.
The start-up community of mini-entrepreneurs is disproportionately represented online.There are lots of people saying "I'll start a blog about what it takes to quit your job and trade for a living", but frankly, there aren't so many who will say: "I'll start a blog about being a middle manager".
With all the hoo-haa on the internet about how easy it can be, it may seem like jumping into full-time trading is less of a gamble.
Chris Tate and I have copped a lot of flack over this. For decades we have been telling our traders that a job can play a valuable role in helping them save up so they can trade with a bigger equity pool. We've suggested supposedly archaic notions such as "work for a year where you're living off your trading income and banking your primary source of income before you quit your job". Sure it sounds less romantic than flying off the handle at your demanding boss on a whim. However, I can guarantee you, on the road to going full-time in the markets, it is precisely the advice you should follow if you intend to never go back to work again for someone else.
I do understand that traditional work doesn't offer the 'happiness answer' for many of us. I know that workers are frequently finding themselves with less autonomy, working longer hours and having their freedom squelched by the demands of their employers. However, sometimes an attitude adjustment is needed. Having an alluring Plan B of developing a full-time trading career can make those employment injustices seem less unreasonable.
Plus, you owe it to your self-esteem to give your all in no matter what role you tackle. You see,the way we approach one thing is the way we approach everything. If you only give a half-baked effort for 8 hours of the day, it's unlikely you'll be able to summon the right attitude to learn about trading on your own time.
It's not impossible to make a go of trading full-time once you've developed the necessary skills. Keep in mind though you'll have to make sure you have a Mentor, a community of people who have done what you want to do to support you, and be willing to take off your rose coloured glasses (I was going to say 'big kahunas'… but frankly, I still want you to think of me as a lady).
---
Ten Minutes with Tate
Holy Hell It's Going Up!
You know we're releasing
freesources
every month to you don't you? (Ahh yes… that word that cleverly combines the use of the word 'free' and 'resources'. Genius!)Last month it was Chris Tate's new video
"Holy Hell It's Going Up".
If you haven't watched it, it's going to shock you to your core. You'll hear:
Why

 

fund managers

 

are not fit to run a

 

Mr Whippy van
The hidden leading indicator that

 

market conditions have changed
Why the

 

Aussie market

 

isn't in the same game as

 

China
The Aussie market is moving quicker than the US markets. Have you noticed?
Bet you that's something that has completely passed you by. Get your head out of the sand. Watch this now!
(Yes, I did just call Chris Tate – a 'Gumby'. I wonder if he'll notice…)
If you're not watching closely, you may just miss out on the next bull run.
---
Rejected But Still Hopeful
Louise Bedford
This is more on the "Louise & Chris" story continued from last month's newsletter.
if you missed it…
Thunderous applause as Chris Tate dramatically finished his presentation. His compelling words, his aura of complete control and his knowledge drove a wedge of belief deep into the hearts of everyone in the audience. You could literally feel people shifting in their attitudes and becoming stronger in their belief that they could make it as a trader.
I watched Paul Ash, the president of the ATAA (Aust Technical Analysts Association), ask whether Chris would like to join us all for dinner.
I found myself hoping that he would. Maybe we'd get to sit together and get the chance to have a chat? Maybe I'd get him to sign my book? Far out, I don't want to look like a groupie, but maybe he'd answer some of my questions about trading, so I could use his wisdom?
He gruffly answered 'No, I've got things to do' – turned on his heel and walked out the door.
To say I was disappointed is an understatement. Was it because Chris didn't want to get to know me? I had no way of knowing.
Would I ever get the chance to work out what makes this bloke tick?
At that stage, I had no idea about just how close we would become, and how we would ultimately influence each other's trading, thoughts and business decisions. Little did I know that the first night we met, a seed was sown that would lead us both to achieve more than we ever thought possible…
Stay tuned for more about Chris and Louise – the early years… in next month's newsletter.
---
Lessons from the Generals of the Markets
During the month, Azeez Mustapha published a terrific article that I'm sure you'd get a lot out of.
After studying my work, he's encapsulated some vital lessons, so click here now to read it.
---
Want Your Trading Business To Run On Auto-Pilot?
Your goal is to trade like a machine, safely and confidently, never doubting yourself, with no ego.
Machines follow instructions. They're implacable, like  robots. They don't deviate from their programming. They don't dwell on the past. They keep on doing the same thing, over and over again, and don't get hung up on their results. Sure, sometimes their programming (or trading plan) needs to be adjusted. However, once that adjustment is made, the machine follows the new plan, never tiring, never changing a thing. Machines certainly never moan to their friends, throw hissy fits and quit in tantrums because it's no fun anymore. Like the Energizer bunny, they just keep on going, and going and going…
These are exactly the qualities you need to cultivate as a trader. But don't make the mistake of thinking that you'll be able to do this alone. Find someone you trust to help you achieve the results you deserve in the sharemarket. When you do… you'll astound yourself with the results you'll achieve. It may even happen more quickly than you think. And just imagine, in a short while, instead of battling on and struggling to work out the hidden rules of wealth creation all by yourself, you'll feel safe and confident and be ready to trade like a dynamo. If you're serious about creating a better life for you and your family, I'll help you achieve your goal.
Have you heard about the Trading Game Mentor Program? Well, if you haven't, then you're just missing out.
The Mentor Program is a 6-month program to teach you how to become an exceptional trader. We take you at whatever stage you're at, whether you're a beginner or even quite an advanced trader. We give you specific strategies so that you can learn how to trade like a machine in every market, across every time frame, but where you trade your own customised trading plan.
I look after you for three months and Chris Tate looks after you for the next three months. We take every aspect of trading – every aspect of over my 20 years in the market, every aspect of Chris Tate's over 30 years in the market – and cram them all inside your head.
We know that this works. We have created a raft of full-time traders, and if that's what your goal is, we can help you do the same. The question you have to ask yourself is: 'Can I do it?'
We have trained so many people from different walks of life, you'll be able to recognize yourself in one of the rave reviews on our website. Whether you're a single mum and you want to stay at home with your babies, whether you're a corporate professional and you're sick of the next new kid on the block looking at your office with envy – the Mentor Program is for you. Whether you're the type of person who is looking to retire now and look after your children in a way that you really hope to in order to establish a legacy, or someone between employment opportunities – you seriously have to consider this life-changing, game-changing opportunity.
Next month, I'll tell you a bit more about the Mentor Program and answer the question 'Does it Work'. So look out for that.
In the meantime, if you feel that you have the heart of a trader, click here to register for Priority Notification about when we're running the next Mentor Program, and to get a host of free goodies:

---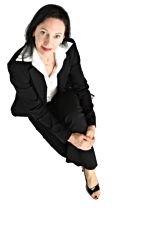 There are lots of ways for a trader to be a coward. They can procrastinate about taking a trade. They can bury their paper loss under the bed and make it a long term investment. They can neglect to tell their spouse about drawdown.
And at the core of all of these cowardly actions is fear.
Whether it's fear of someone else's opinion, fear of making a financial screw-up, or fear of damaging your own self esteem – the emotion of fear can stop you in your tracks.
Be alert. Be on your guard.
Anytime you find yourself making a trading decision based on fear, you'll find the decision will back-fire on you in some way. It might not back-fire straight away, but it will back-fire.
Until next months newsletter…
Happy Trading!