28 Jan 2013
January/February 2013
The newsletter other trading professionals demand
WELL, IT'S THE START of a new year. I thought I'd kick off by telling you about a time where I nearly stabbed my husband, a close brush with the law and much much more!
Happy New Year and may the trends be on your side for 2013!
Righto, enough throat clearing, let's get on with it…
Not long after I had my first baby, my husband (Chris Bedford) quit his job. This was awesome, except for the fact that now both of us were working from home and we constantly wanted to murder each other. I was trading, writing a book, and learning how to be a Mum. Chris was still doing a bit of work as an industrial designer, trading, and learning how to be a Dad.
He would stomp around the house yelling: "BUY! SELL! WE NEED TO MAKE MORE PEAKS IN THE DAIRY WHIP!" – or something like that. Honestly, I don't really know because I just wasn't listening to the content. All I could hear was the volume. However I can tell you that there's nothing more distracting than a man yelling to himself or nameless others on the end of a phone line while you're trying to unravel an options trade that has suddenly taken a wrong turn.
Inevitably, Chris would come into my office, just in the middle of one of my brain waves where I was on the brink of changing the world. I'd glare at him, but he never would get the hint to 'Shut the Hell Up or I'm likely to stab you with this fork!' Then one of us would threaten to poison the other's coffee, or storm off in a huff. In fact, it was a lot like working in a regular office, except that there was a baby there and the threat of an impending stabbing.
Before we both worked out of the house, we'd come home and whinge about the moronic people in our respective offices that were undoubtedly out to destroy us. Now, we couldn't even have that conversation because it was clear that the moronic co-workers out to destroy us were… us.
After many months of near stabbings, we finally set some ground rules and decided to work through our territory wars. Chris went back to work part-time. Then, BEFORE he came home for good so that we could both be full-time traders, we talked about how we could avoid some of the potential stress that had arisen the first time.
Chris even told me once – "You reckon it's tough being a trader – try being your husband!". Yikes. Something had to change – and I knew that something was me.
Whenever you're trying to learn a new skill, you're bound to be a bit on edge. Whether that skill is being a mother or becoming a trader. As you conquer the trading skills you need to make your dreams come true, make sure you remember the toll this can take on your spouse. Build in some time just for them. Tear yourself away from your computer screen. Try not to talk about trading every moment of every day. Find other support mechanisms to help you blow off some steam.
Or… make sure you remove all sharp objects from the house, lest your spouse decide to take their revenge.
Keep reading to hear about our first Mentor Program arrest! You don't want to miss that story.
You'll also hear all about how to improve your mind so you can finally beat the markets and achieve the success you deserve.

Happy Trading,
You can also find Louise Bedford on Facebook and Twitter.
In this month's newsletter:

– 2012 Year in Review

– Email of the Month

– Our first Mentor Program Arrest?

– Take Some Time Out To Think

– At One Stage…

– Favourite Quote of the Month

– A Terrific Book Recommendation

– Final Thoughts
---
2012 Year in Review
HERE'S A GREAT 28 minute video from Chris Tate where he looks back at the 2012 trading year. Grab a cuppa and settle in for some great insights.
(video will open in a new window)
---
Email of the Month
Louise Bedford
JUST GOT TOLD BY a person who has never met me, via an email: "Why do you constantly go on about improving your self-esteem. Whether you feel good or bad about yourself has no bearing on your results".



Personally, I couldn't disagree more. I pointed out the quote from Dr Maxwell Maltz from Psycho-Cybernetics: "The self-image sets the boundaries of individual accomplishment. It defines what you can and cannot do. Expand the self-image and you expand the areas of the possible."

What do you think? Worth giving it a shot to see… just see… if the quality of your life goes up a notch?

---
Our first Mentor Program Arrest?
OH, MY GOODNESS, IN a fit of trading fervour, an all-time larrikin and Mentoree had a brush with the law on his recent holiday in New York.

Yes, that's Brian Carpenter on the back of the iconic bull, and also yes… that's Brian explaining patiently that he's a member of our Mentor Program to the boys in blue. Apparently they take security rather seriously these days! Who knew?

Thanks for the laugh and the great photos Brian!
---
Take Some Time Out To Think
Louise Bedford
WE'VE ALL JUST EMERGED from a time of year filled with eating, drinking and emotion. However, amidst all of these festivities, did you capture any time for yourself to just relax and think? It's really the forgotten skill. Silence and thought. These commodities are growing scarcer and scarcer in today's plugged in world.
Ralph Waldo Emerson said: "The ancestor of every action is thought".
Napoleon Hill of the famous 'Think and Grow Rich" said: "You have absolute control over but one thing – your thoughts. This divine prerogative is the sole means by which you may control your destiny. If you fail to control your mind, you will control nothing else. Your mind is your spiritual estate. What you hold in your mind today will shape your experiences of tomorrow."
Set aside an hour just to let your thoughts amble. I dare you. Do it this week. Put it in your diary. Now.
---
At One Stage…
Louise Bedford
At one stage, Steve Jobs was working out of his Mum's garage.
At one stage, Martin Luther King was nervous about presenting in public.
At one stage, Benjamin Franklin was being called 'slow' by his third grade teacher.
At one stage, Charles Dickens left school early to work in a factory, after his Dad was thrown into prison.
At one stage, Warren Buffett hadn't bought his first stock.
Just because you started out in one place, doesn't mean you will end up in the same spot. What will the next chapter in your story hold?
---
Favourite Quote of the Month
Penn Jillette:
"If you want to get to get to Utopia: Take your first left on sex, your first right on money and there it is straight ahead."
---
A Terrific Book Recommendation
SOME OF YOU MIGHT know Kris Sayce – promoter of personal freedom and general all round nice guy. He has a great little video on his top 5 investing books.
Click on this link to watch it: http://www.pursuitofhappiness.com.au/index.php/my-top-five-investing-books/
Isn't he lovely?! (Subscribe to his Pursuit of Happiness newsletter while you're there – it's a great read too.)
He starts his review of my book at 9.36 minutes, so if you want to fast forward to that bit, feel free.
If you've missed out on reading Louise's Charting Secrets book, you simply must rectify this unfortunate situation!
For the first 50 people to buy it based on reading this article, you'll get a lovely discount and only pay $31.95 instead of $39.95.
Jump in quickly and you can grab this top deal.
---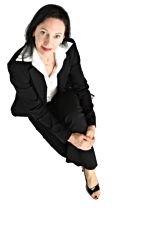 Final Thoughts
THE FACT IS, BEING A trader and writing some thought provoking comments for you each month is a blessing. Not that I always feel like that, or even tell you every chance I get like some sort of demented evangelist – but I do feel it. I fully realise that my life is structured around my own personal core values and the things I really like to do with my time. I feel grateful.
So where are these little thoughts leading to?
You see, we live in an age of entitlement where the majority of people expect to win, and often give up at the first sign of a struggle. They seem to think that all they need to do is take that first step, and success will be assured.
However, you and I know that this isn't the case. The first step, while hard to make, is simply that… it's just the first step. To really excel, you must continue to push forward.
And that's what I'm here to help you to do. To keep on walking when you feel weak. To keep on pushing when you feel like stopping. To keep on striving when it would just be easier to settle back down onto a nice, soft couch.
A lesser person takes the easier option.
It's only 'courageous' if you face your fears and keep moving forward.
With the beginning of this sparkling, opportunity-filled New Year – more than anything, I wish for you courage. Courage to face your fears and take that next step… and the next step… and the next step.
And in the trading arena, I'll be right beside you, every step of the way.
Until next month…